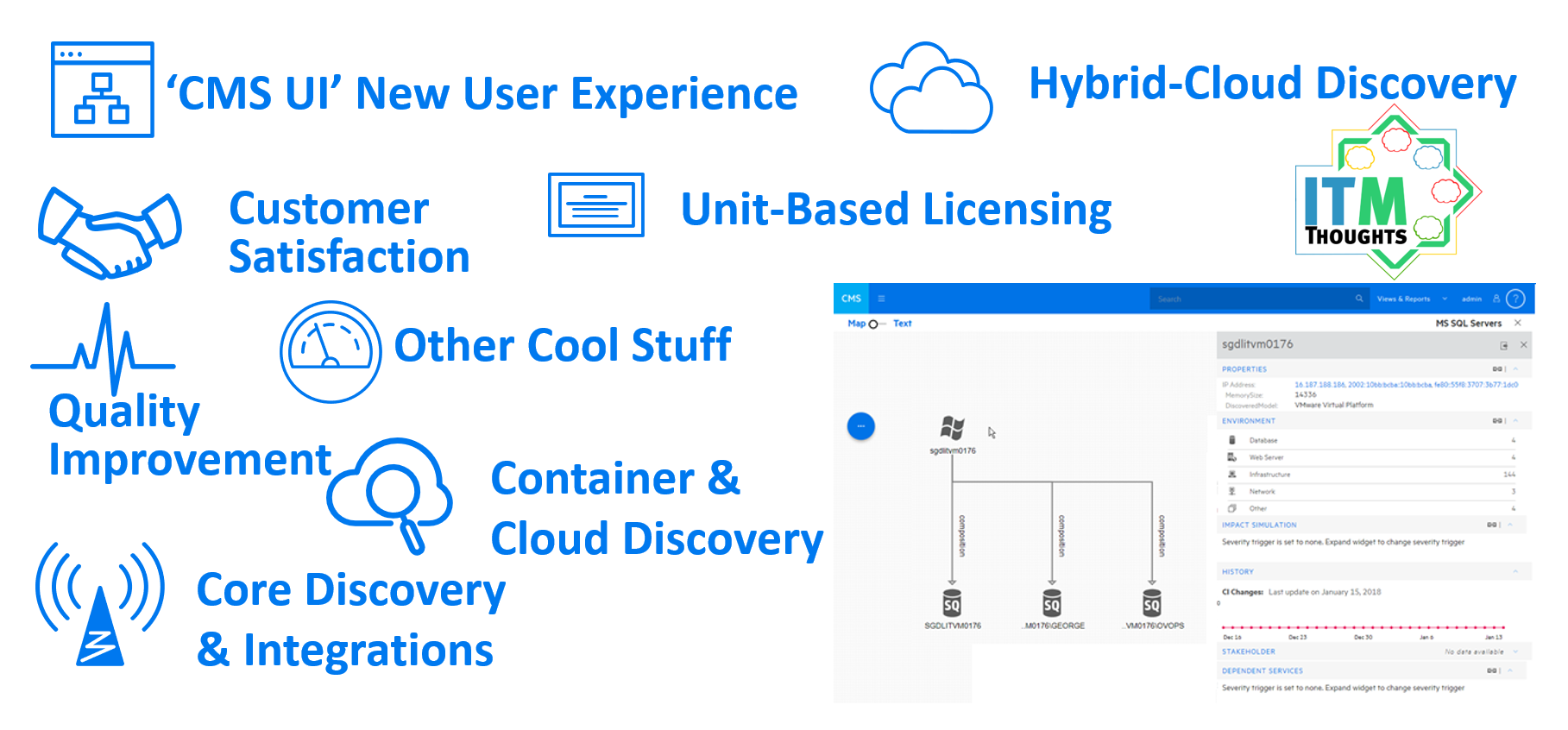 This year Micro Focus introduced a new version of its famous Configuration Management System, this version is version 11, they have renovated the user interface and added more technologies to their discovery capabilities and as promised they've used machine learning and analytics in the latest releases.
This post will be a placeholder for CMS webinars that are targetting presales and implementation teams to keep them updated with the new features in the latest releases.
CMS 2018.08 Technical Awareness Webinar
This technical awareness webinar will cover the latest features and capabilities from the CMS 2018.08 release.
The webinar will include CMS UI Performance & user experience improvements, integration status notifications, and integration control via RESTful APIs. There will be an opportunity for Q&A after the presentation.
Recorded session CMS 11 (2018.08)
CMS 2018.05 Technical Awareness Webinar
This webinar will go through the latest release of CMS 2018.05 including Universal CMDB (UCMDB) and Universal Discovery (UD).
Topics and demonstrations will include updates to the reconciliation analyzer, UCMDB local client tool, updates to administration and supportability, and new discovery capabilities around Kubernetes in addition to many more updates.
Recorded session CMS 11 (2018.05)
Webinar CMS (UCMDB/UD) 11 Technical Awareness Webinar
The new release of CMS (UCMDB, UD) 11 delivers a new user experience, how IT Universe is transitioning to the new UI, the new way to search for resources in Global Manager and the new Integration Studio interface, and many more.
In this release, we will be discussing our Extended capabilities to discover multi-cloud environments including public and private clouds.
There are some enhancements in Core Discovery where agent becomes smarter and more autonomous, we will discuss enhancements in the discovery of Hyper-V SCVMM and MySQL, also few things about Network Automation integration.
Some cool stuff like Reconciliation Analyzer and Automated Service Modeling improvements
During this session, you will learn what's new in this release, and the value it provides for end users, administrators, and the entire ITOM suites.
Read more about CMS in Micro Focus CMS Best Practise Guide in this link What is CMS?